Choose the VolunteerSpot that's best for you:
Plans & Pricing
ˆ VolunteerSpot has partnered with WePay, the leading online trusted payment transaction company, to make collecting money quick, easy and secure.To pay for the swift processing of funds, WePay charges a fee of 2.9% + $0.30 cents per transaction. Through June 30, 2015, VolunteerSpot has waived our convenience fee and charges NO additional surcharge or fees. Happy Collections!

Need Something Extra?
Let us know about your organization and your special needs (e.g.: ad-free, custom landing pages, training webinars). Click here »
National, State or Regional Organization? Ask us about custom branding and templates. Click here »
*Our free service allows for an unlimited number of participants. We recommend that each individual signup target 500-600 participants max so the site will load quickly for folks accessing from older, slower computers. Please see this article for guidance on planning your large events.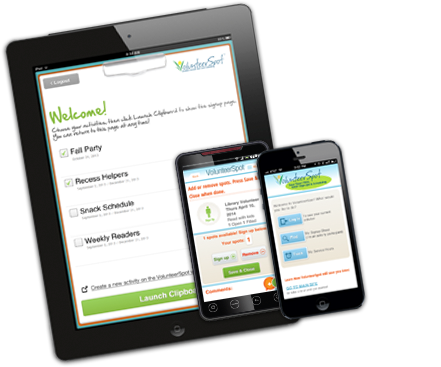 FREE Smartphone Signups
VolunteerSpot's mobile website makes it a snap for participants to sign up on the go from any smartphone — automatic routing to screens formatted for mobile. No apps to download. Easy!
iPad Clipboard by VolunteerSpot
Signups in person, quick and easy! Turn your iPad into an intelligent Clipboard sign up sheet — powered by VolunteerSpot. Free Download
Sign Up by VolunteerSpot
Phone & Android-optimized companion apps to VolunteerSpot let you view ALL your VolunteerSpot activities in one place, track volunteer hours, contact organizers & participants, ad-free & more!